We're stepping outside of the usual MiLB lines for the next few days (or weeks) to bring you some of our favourite baseball stories.
As some of you might know, I have been deeply immersed in an amateur baseball research project from almost a century ago. Hopefully, it will see the light of day somewhere down the road. Along the way, I've gone down many research rabbit holes, some of which have related directly to my project, some of which have not. It's those latter ones that I want to tell you about in the next few posts. As baseball stories, they stand on their own, and tell a tale of the development of the sport in the province of Ontario.
In the fall of 1852, the growing town of Toronto was about to become even bigger. A rail line from Montreal would soon connect the two leading economic centres of Canada, which was a collection of five British colonies at the time, Confederation still only an idea discussed by politicians frustrated by political deadlock in their assemblies and concerned about another American invasion. Plans had been made to build railways from Toronto in several directions, including a line north from the city (with a stop in Barrie) to a settlement on Georgian Bay called Hen and Chicks Harbour, which would be called the Ontario, Simcoe, and Huron Railway, named after the three lakes it would join.
A grand parade and dinner were held prior to a sod-breaking ceremony. Doing the honours that day was Lady Elgin, wife of the Governor. After Lady Elgin commenced the railway's construction by lifting a chunk of ceremonial sod, an enterprising young Scottish immigrant engineer (who prior to joining the OS&H had made a living selling maps he made door-to-door) spirited the chunk of ground away, and years later presented it to the Canadian Engineers Institute in a specially made glass and wood case. Young Sandford Fleming would go on to great heights as a railway man. He was present at the famous last spike ceremony to mark the completion of the Canadian National Railway, and would later become known as the inventor of standard time.
The railway earlier had a decision to make once it reached Barrie: continue north along Penetanguishene Road, a military route built decades earlier to supply the former military and naval base at the town of the same name, or take a turn to the northwest to Hens and Chicks. A delegation had made the trip to the tiny harbour months earlier, and finding the route flatter and less challenging than the Penetanguishene trail, they chose that harbour as the terminus of the new railway, and renamed the town Collingwood after the legendary British Admiral who saved the navy's fleet after the death of Nelson in the Battle of Trafalgar.
Pulling with an engine named after the sod-turning Lady Elgin, the little railway rolled into Barrie (some 90 km north of Toronto) in late 1853, and reached Collingwood a little over a year later. The line proved profitable almost right away, especially when a ship full of grain from Chicago sailed into the harbour in the fall of 1855. The American midwest was burgeoning with wheat, but had no efficient means of transportation to get it to the eastern markets. A grain elevator to store the grain was hastily built along the waterfront in Collingwood, a wooden structure that was eventually replaced by a concrete version that still dominates the town's harbour ninety years later. Almost overnight, the former pioneer settlement turned into a growing, prosperous village as a result of the passenger and cargo traffic it received. As railway lines expanded across the province, grain elevators began to pop up all along the shores of Lake Huron and Georgian Bay.
Jim Shaw was born in Kemble, Grey County, Ontario, in 1868. As a young man, he worked on the family farm, and then in a lumber camp for a few years before heading west, like so many young men of his generation. He hired on with H.J. Tromanhauser, a company that build grain elevators all across the western states and Canadian provinces. A centre fielder when he wasn't constructing elevators, Shaw's travels took him to various stops in Northwestern Ontario and Manitoba. He always seem to find a team to play for no matter where he went.
Shaw returned to Ontario in 1903, having been appointed VP of the Tromanhauser firm. As the province was transitioning from wooden to concrete elevators, Shaw became known as "The Dean of Elevator Builders." Under his guidance, the firm in addition to elevators built wharves, mills, and harbour works. While working on a project in Goderich, ON, he received an award for bravery when he saved a fellow employee from being killed in a conveyor belt.
In 1919, perhaps tired from a life of travelling and supervising construction projects, Shaw was hired by the Canadian Pacific Railway to manage their grain elevator at Port McNicoll, on Georgian Bay, the largest such facility on the Great Lakes. A stickler for details and one to work well into the night, Shaw's facility quickly gained a reputation for being one of the most efficient (and proficient) grain handlers on the Great Lakes. Shaw's crews filled boxcars with prairie wheat, and sent them across Hogg's Bay Trestle, a 2100′ wooden bridge spanning the bay of the same name, where they would connect with the Midland Railway, en route to flour mills in Montreal.
In between grain shipping seasons, Shaw could indulge his appetite for sports. He oversaw the construction of the first curling rink in town, but baseball was his passion, as a player, and later as a coach. The studious Shaw applied his skills and work ethic to learning all he could about the game, and the teams he led as a coach were known across the province. Shaw was also a huge fan of the International League's Toronto Maple Leafs.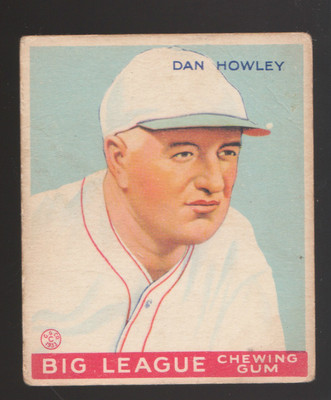 Dan Howley was a career minor league Catcher who had a brief stint with the Phillies in 1913. When his playing career ended, he turned to coaching, managing the International League Montreal Royals before serving with the Tigers as a coach in the early 20s. He managed the Leafs from 1923-26, during which time he struck up a friendship with Shaw. Nicknamed Dapper Dan by some newspaper writers because of his resemblance to a famous gangster of the time, he he was better known as Howling Dan for his loud and boisterous laugh. Invited up to Port McNicoll for a fishing trip, Howley and Shaw met, and quickly became the best of friends through their shared loves of baseball and angling.
One of Howley's Pitchers was an enigmatic lefthander by the name of Carl Hubbell. The Oklahoman was signed by the Tigers, and had some success in his home state pitching in the Western League in 1925. Hubbell threw a pitch called the fadeaway, the forerunner to the modern screwball. It was a pitch that was difficult to master, as well as (so the Tigers thought) hard on his pitching arm, so when Hubbell arrived in Toronto for the 1926 season, Howley had to inform him that Tigers' Player-Manager Ty Cobb said he wouldn't be able to use his out pitch. Hubbell had a mediocre season in Toronto, and pitched mostly in relief for the Leafs in their championship season. Detroit demoted him the Three-I League for the following season. After another so-so 1927 campaign, the Tigers sold him to Beaumont of the Texas League. Hubbell was allowed to resume use of his screwball with the Texans, and by mid-1928 was in the Major Leagues. Hubbell won 20+ games from 1933-37 (and 254 for his career), and is probably best known for striking out Babe Ruth, Lou Gehrig, Jimmie Fox, Al Simmons, and Joe Cronin in succession in the 1934 All Star Game.
1926 was supposed to be a huge one for the Toronto club. A perennial also-ran to the powerhouse Baltimore Orioles, Toronto had moved from their former ball park on the Toronto Islands to a brand new concrete and steel bowl at the foot of Bathurst Street on Toronto's waterfront. Termed the best park outside of MLB, Maple Leaf stadium was to usher in a new era of Toronto baseball.
But the season did not get off to a successful start. After starting the season on a thirteen-game road trip, the Leafs' home opener was rained out, and while they posted a winning record heading into July, they once again found themselves trailing the Orioles. Earlier in the season, Howley had invited Shaw to Toronto to take in a few games, and he happened to arrive while the Leafs were in the midst of a slump. Baltimore was in town for a double-header, and Howley invited Shaw to join him on the Toronto bench. The Leafs swept the twin bill, and with Shaw in attendance for several more games, went on to win 14 straight, finishing the season on a torrid 37-6 run, taking the IL pennant by 8 games over second place Baltimore. Toronto faced American Association champs Louisville in the Little World Series, and swept the best-of-nine affair in five games. Howley maintained that Shaw's presence on the Leafs' bench was the reason for the team's dramatic turnaround.
Howley's success with Toronto earned him the Manager's job with the St Louis Browns in 1927. The 27 Browns were a sorry outfit, losing 94 games and finishing 7th (out of 8), 50 games back of the Yankees. Howley got better results from the Browns the following year, finishing 10 games over .500.
In 1930, Howley was hired to run the Reds, who were a sad sack club in those days. In his three years with Cincinnati, Howley finished last twice, and next to last the other time, his teams finishing a collective 108 games under .500. In 1932, the Reds acquired rifle-armed future Hall of Famer Chick Hafey. One of the first players in the Majors to wear glasses, Hafey had won a batting title with the Cardinals the year before, but a contract dispute with GM Branch Rickey led St Louis to deal their star. The holdout caused Hafey to report late to the Reds, but by the end of April, he was back in the lineup. Hafey had hit well for the first half of May, but a bad case of the flu and the flare-up of a chronic sinus condition caused him to slump for the rest of the month. After a month off, Hafey returned to the Reds' lineup, but was still weak and limited to pinch-hitting duties. Concerned about his star's health as well as his psyche, Howley convinced Reds' management that some time on the shores of southern Georgian Bay might be the tonic Hafey needed, and he packed his bags for a train trip to Port McNicoll. There, he rested, fished, and talked baseball with Howley's good friend Jim Shaw, and returned to the lineup in August, and soon Hafey was back to his slugging ways.
Hafey's recovery wasn't enough to salvage the Reds' season, unfortunately, as Cincinnati finished dead last with a 60-94 record, and Shaw was looking for work after the season ended.
The North Simcoe Baseball League was gaining quite a reputation, as was the Georgian Bay area in particular, for developing outstanding amateur baseball teams in the early 30s. The area produced legendary Pitchers Hec Goldsmith, Warpy Phillips, and Smoky Smith. The Barrie club was a powerhouse, regularly reaching the OBA (provincial) finals. A talented team was emerging from tiny Penetanguishene, shortened to Penetang by all but the locals. The star of the club was a homegrown Pitcher named Phil Marchildon, who was renowned for his prowess on the diamond and the gridiron. Marchildon's fastball quickly gained a reputation for its speed as much as it did its wildness. In order to give Marchildon and his team some more polish as they mounted their own bid for an OBA title, the sponsors of the team, Spencer Foundry, a manufacturer of wood stoves and cast iron products, decided to bring in Shaw to manage the team. The team was talented, but raw, and under Shaw's tutelage, it was felt, the Rangers would rise to their potential.
But Shaw was unprepared for the diamond in the rough he had in Marchildon. Blessed with movie star looks and prodigious athletic talent, he excelled at every sport Penetang High School had to offer. As a teenager, he also caught on with the local "rep" rugby football team, playing against players twice his age. Marchildon's speed made him a natural at halfback, and the Penetang team was so good that other local teams stopped playing them, because a drubbing was usually the result. On the mound, Marchildon was wild. He had only started pitching as a high school senior, and had much to learn in his development. It didn't help that Marchildon's celebrity status in town as a result of his gridiron heroics made him somewhat stubborn, and reluctant to take much in the way of instruction. He had always been able to get by on his athletic ability, and gained a reputation as something of a prima donna on the mound. He would glare at umpires if balls and strikes weren't being called to his liking; he would stomp around the mound when a teammate made an error behind him.
Shaw had a difficult task ahead of him, and he knew it. He put word out to his buddy Howling Dan, who was between baseball jobs at that moment. Howley came up to do a little fishing with Shaw, and a little coaching with Marchildon. Howley worked with Marchildon on his curveball grip, and mentored him in the fine art of pitching. Despite his stubborn streak, Marchildon was all ears in the presence of the former big league skipper.
After the arrival of Howley, Marchildon became a different Pitcher. He learned to command his curve better, and to change speeds on his fastball. He was still very wild – a trait that followed Marchildon through his pro career, when he led the American League in walks twice – but the adjustments were more than enough to outmatch North Simcoe League hitters, and Penetang easily won the league title, and the right to enter the Ontario Baseball Amateur Association play.
After tough series against North Bay and Meaford (led by their ace Phillips), Penetang qualified for the OBAA final. They would be up against the Chatham All-Stars, a team comprised of African-Canadians who advanced to the final in their first year of competition. In a series delayed til late October by protests, administrative bungling, and bad weather, Chatham outlasted Penetang to win the provincial Intermediate B championship. Marchildon, who pitched three games (two of them extra innings affairs) in six days, had nothing left in the tank for the fourth game, a match ordered as a replay (as was the custom of the day) when the third contest of the best-of-three affair was called by darkness in the 11th inning.
After the 1934 season, Howley returned to baseball, this time as GM of the Maple Leafs. Marchildon's Penetang team failed to make it out of the North Simcoe League, having been knocked out by eventual OBA champs Collingwood in the final. In an exhibition game against a team from Strathroy, Marchildon learned that the Nickel Belt League in the Sudbury area was looking for players. It was a higher level of competition, and offered Marchildon the prospect of a full-time job at the height of the Depression. He led his Nickel Belt team to a provincial title the following season, striking out 275 hitters along the way.
But 1934 would not be the last time Howley and Marchildon crossed paths. In 1938, Marchildon was invited to attend a Leafs' open tryout camp in Barrie. He struck out all six hitters he faced, but being a shy type, when no one spoke to him right after his performance, he jumped in his car and made the four hour trip back to Sudbury. At 25, Marchildon was a little old to begin his pro career, so he changed his year of birth from 1913 to 1916, giving him, as he called it, a new "baseball age."
Word reached Howley back in Toronto about Marchildon's performance. When he asked former big leaguer Clyde Engle, the scout who ran the camp, if he had offered the righthander a contract, he was told Marchildon disappeared after he had pitched. The next day, Howley made the seven hour drive north himself to get Marchildon's name on a contract, claiming he plucked him off of a lift as he was about to head underground for his shift. Marchildon joined the Leafs for spring training the next year, but struggled against International League hitters. Sent to Cornwall (ON) of the Can-Am League, Marchildon found his footing, and was soon back in Toronto. On the occasion of one of his starts at home, several Penetang businessmen chartered several busses to take locals down to cheer on their native son.
The following year, 1940, Marchildon was signed by Connie Mack to play for his Philadelphia Athletics. His Catcher, Earl Brucker, felt that Marchildon was throwing across his body, and helped alter his delivery, which resulted in improved command. In that pre radar gun era, it's been estimated that Marchildon's fastball touched the mid-90s, which has high for that time. If you want to consider a modern-day comparison for Marchildon, Tim Lincecum comes to mind. Both were about the same size, relied on a fastball with a lot of movement – although Lincecum had greater control.
The war years were not kind to Marchildon or his old club the Rangers. Shaw passed away just prior to the war, and Howley died of a heart attack in 1944. With most of the team's players serving, the club folded, and did not return to play after the war ended. Marchildon himself enlisted in the RCAF, and was a tail gunner on a Halifax bomber. Just a few missions short or rotating home, Marchildon and his crew were shot down the night of August 17, 1944. After floating in the North Sea for hours, he was picked up by a Danish fishing trawler, but by the time they reached port, the Germans were waiting for them. Marchildon endured harsh conditions as a POW, and was forced on the infamous Long March before being liberated in May, 1945. The experience left Marchildon scarred both physically and emotionally. Not helping matters was that Mack pressured him to return to game action from the minute he returned. Marchildon found himself weeks later starting and lasting two innings on a celebratory Night Mack had arranged – mostly to draw fans to see the woeful Athletics.
Baseball took some time to return to normal in North Simcoe after the war. The league had folded, and it took several years after the war ended before towns began fielding teams again. Midland decided to enter a team in 1950, looking to move up in provincial play as Penetang once did. They recruited a hard throwing right handed Pitcher from Toronto named Gord Dyment. Dyment had previously signed with the Phillies, but was let go after one season. Lured north by a job as a CPR Policeman at Shaw's former Port McNicoll grain elevators, Dyment pitched for Midland for several seasons before, like Marchildon before him, he left for the Nickel Belt. It was while pitching for a team there that Dyment got another shot at pro ball, spending several seasons in the Giants' system. There he came under the tutelage of Carl Hubbell, then New York's roving minor league pitching instructor.
Dyment eventually returned to Midland, and led the team to several Ontario titles, pitching well into his 40s. He spent the rest of his life in the southern Georgian Bay town, passing away in 2003. The following year, the town renamed their ballpark in his honour. For several years, fans behind the backstop at Gord Dyment field were treated to a view of the Bay, which included the Tiffin grain elevators – built by Jim Shaw's firm in the early 1900s. With their demolition to make way for a waterside condo development two decades ago, the last link in a chain which spanned almost a century – from Jim Shaw to Phil Marchildon to Dan Howley to Carl Hubbell to Gord Dyment – was broken.